Strictly Networking Breakfast - Every Tuesday Via ZOOM 8am to 9am
Strictly Networking Breakfast - Every Tuesday Via ZOOM 8am to 9am
Tuesday, December 28, 2021 (8:00 AM - 9:00 AM) (PST)
Description
Weekly Strictly Networking Breakfast on ZOOM!
8am to 9am
THIS EVENT IS FREE!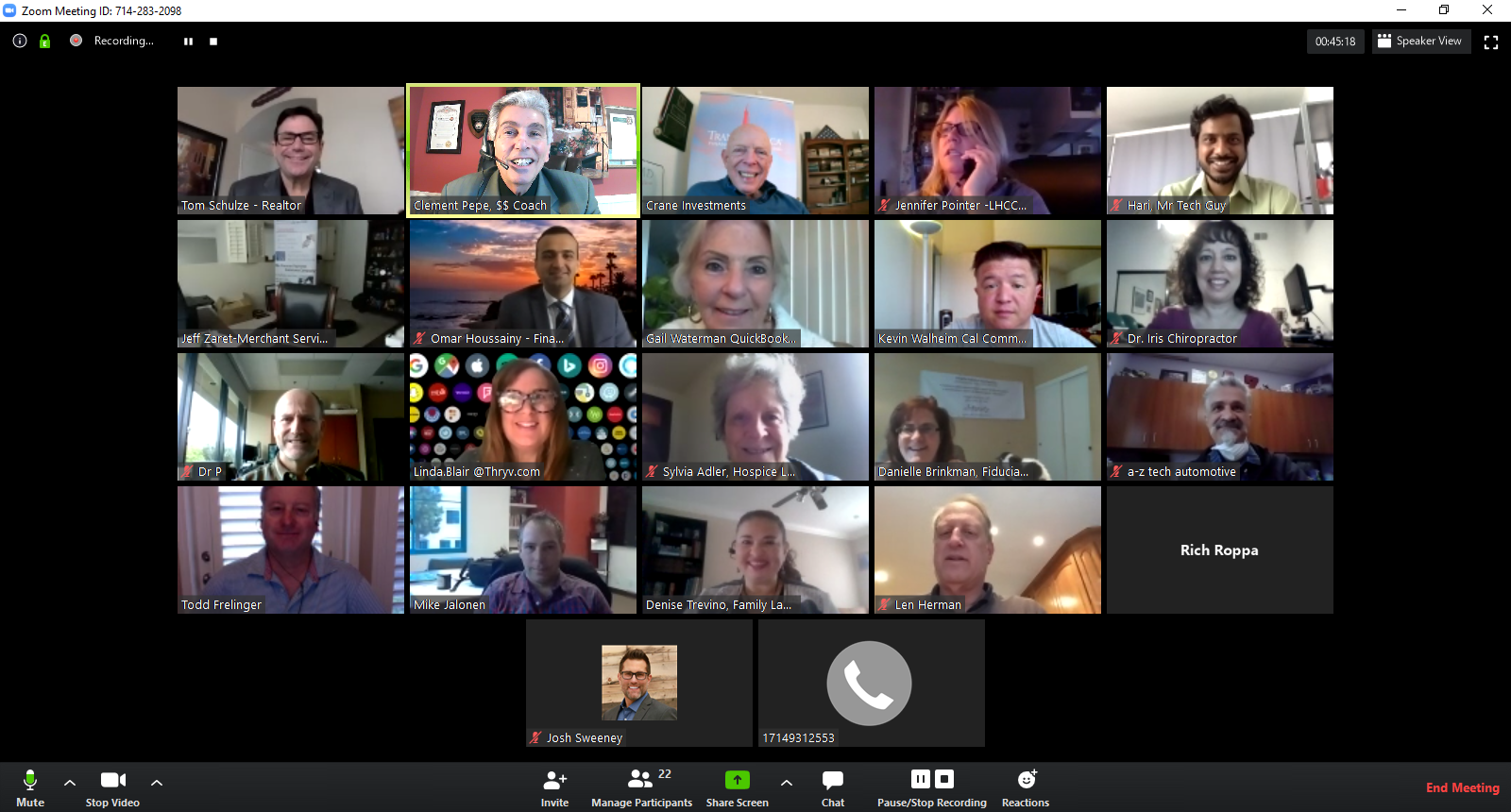 So join us for breakfast, make your own at home and dial in!
Join Zoom Meeting
https://us02web.zoom.us/j/7142832098?pwd=ekt2RGM5Y0V4N1lUd3dHWlJmakRhZz09
Meeting ID: 714 283 2098 Passcode: 1369
Join us for our morning networking meeting to help you grow your business. Come network at 7:30am prior to the meeting!
Regular attendees, please log onto ZOOM at 7:55am. Starting promptly at 8:05am.
Also, we can see you, please dress for the meeting.
Upcoming Breakfast Member Speakers
Speakers Weekly
4/27 - Bill Moorhead - Moulton Niguel Water District
5/4 - Len Herman - Compass
5/11 - Jan Miller - 21-13 Impactgraphics
5/18 - Stephanie Solomon - Orange Coast Orthodontics (Dr. Bobby)
5/25 - Martha Haecherl Homes
6/1 - Jerome Abbott - WSW Foundation
6/18- Tiffany Congelliere - Casa Recovery
Hello fellow Laguna Hills Chamber Members and Guests,
We at the Laguna Hills Chamber of Commerce are committed to having our members to continue to have opportunities to maintain and grow their businesses even through this unusual time. Therefore, we are continuing our Tuesday AM Networking Meetings via Zoom each Tuesday @ 8:00 AM until 9:00 AM. The meeting will be conducted just like our in person meetings only virtually. Join us every Tuesday @ 8:00 AM to continue the momentum of successfully growing your business now and into the future.
Your Computer

Tuesday, December 28, 2021 (8:00 AM - 9:00 AM) (PST)